To Be Amazon Top 1 - Booming 30-Fold Price Up for Bing Dwen Dwen Sale

Why Bing Dwen Dwen Topped Amazon's Best-selling List?
With the Beijing Winter Olympics Opened on February 4, 2022: "Chinese-style Romance" was popular on Wechat and was highly praised by people from all over the world; fat pigeon lights, sold out; the mascot Bing Dwen Dwen (Pin Dun Dun in pinyin) Become a "new top-influence", and the peripherals are sold out... "
One pier is hard to find", Bing pier's strength interprets top-notch status The ability to carry goods for the Winter Olympics should not be underestimated, and the mascot Bing Dwen Dwen is "hard to find" in China. In recent days, more than one million people have flocked to the official flagship store of Tmall Olympic, and Bing Dwen Dwen, priced at 88 yuan, was snapped up.
"The first second shows that there is inventory, and the next second it shows that it is sold out."
"Let's just say that the more you want to collect the package, the more you miss out."
"Hesitating, it's alright now, there's nothing left."
"Dream of love, who doesn't want to have it?"
Many people feel deeply regretted because they couldn't buy Bing Dwen Dwen. When the Haixi went to the official Olympic flagship store again, it was found that Bing Dwen Dwen was sold out, the monthly sales had reached 50,000+, and the product was a pre-sale product. It will be shipped within 30 days after payment, and each account is limited to 2 pieces.
Bing Dwen Dwen went on sale again at 16:00 in the afternoon. According to  the Haixi's observation, the product was sold out not long after it was put on the shelves, and it was sold out only 2 minutes later. In such a situation that the supply is in short supply, it is enough to see how popular Bing Dwen Dwen is. Not only is it sold out online, but it is also hard to find offline.
At the gate of Wangfujing Gongmei Building, the queue to buy Bing Dwen Dwen plush toys was more than 1 km. According to a staff member, the toy is limited to 300 pieces per day, one per person, and it was sold out when it opened in the morning. Some people even started queuing the night before to get the Bing Dwen Dwen plush toy.
According to the staff, after the opening of the Winter Olympics, Bing Dwen Dwen has been snapped up. There is currently no quota, and it is not known when the replenishment will be in place. The fire reached the cross-border circle, and the price of 1,000 yuan was sold around Bing Dwen Dwen Bing Dwen Dwen is not only popular in China, but also in the cross-border circle, and is loved by many overseas consumers.
On Amazon's US, there are many Bing Dwen Dwen keychains on Amazon's Best seller list. A $9.99-$12.99 Bing Dwen Dwen double-sided print keychain topped the Best Seller list in the women's keychain category. It is reported that the product will be launched on January 4, 2022. In addition, there is a Bing Dwen Dwen keychain priced at $12.88, which was launched on February 5, 2022.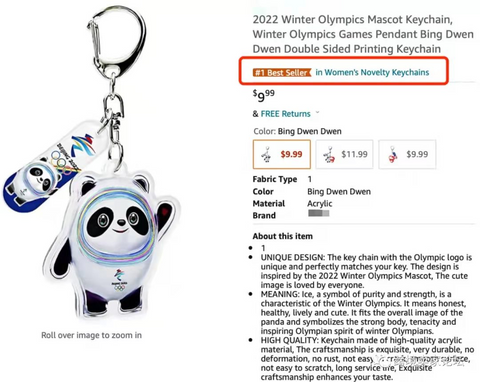 In 2 days, it also ranked 38th in the list of new women's keyrings and keychains. From these cases it can see how popularity of Bing Dwen Dwen in many countries. Moreover, in just a few days, price of Bing Dwen Dwen has been quickly booming on sale for more than 30 times on some online platforms. It is reported that the original price of Bingdun Dun, which is less than 100 yuan, has been sold for a sky-high price of 55,555 yen (about 3,000 yuan) on the Japanese Mercari platform! Even the ice pier on Amazon Japan is priced at 60,000 yen... Judging from the fact that the products around Bing Dwen Dwen are so popular, it will surely attract the attention of many sellers. However, before entering the game, sellers are advised to do market research and beware of infringement.
The product is hot for a while, and sellers need to be cautious when entering the game Since the opening of the Winter Olympics, it has not only driven people's enthusiasm for ice and snow, but also the fire of the ice and snow economy. In addition to the above-mentioned Bing Dwen Dwen keychains and plush toys, which are popular with consumers at home and abroad, netizens are also looking for real-name crystal balls, earphones, protective shells, badges, etc., which have given sellers more reference opinions. But sellers still need to think carefully before entering the market. On the one hand, after a popular product attracts a large number of sellers, it may face a problem of brand infringement. Since the opening ceremony of the Beijing Winter Olympics, the surrounding area of ​​the mascot Bing Dun Dun has continued to sell well, and the trademark has also attracted squatting.
According to the Tianyancha App, the number of trademark applications for "Bing Dwen Dwen" and "Xuerongrong" reached 184 and 101 respectively. At present, the Beijing Winter Olympics and Winter Paralympics Organizing Committee has applied for the registration of "Bing Dwen Dwen" and "Xuerongrong" trademarks in 45 international classifications, and the registration has been successful. Except for the successful official registration, most of the others are in the status of "invalid" or "rejected".
At present, there is news that a Bing Dwen Dwen keychain link that has just been listed on Amazon's BSR has changed into a dog. Some sellers speculate that it should be violated without official authorization. On the other hand, the huge flow benefit of Bing Dwen Dwen is due to the temporary shortage of stock. In the past two years, Bing Dwen Dwen has faced the embarrassing situation of not being able to sell.
Some sellers with formal copyrights did not prepare sufficient inventory, and the production stagnation during the Spring Festival led to serious shortages of products. Subsequent factories resume production, making up for the shortage of goods, which may lead to a significant reduction in product prices or even losses.
Of course, it is easy to gain traffic and sales by , but sellers need to do market research before starting the business, watching infringing on the rights and interests of others' brands, and arrange inventory reasonably while operating in compliance to avoid losses after the heat is over.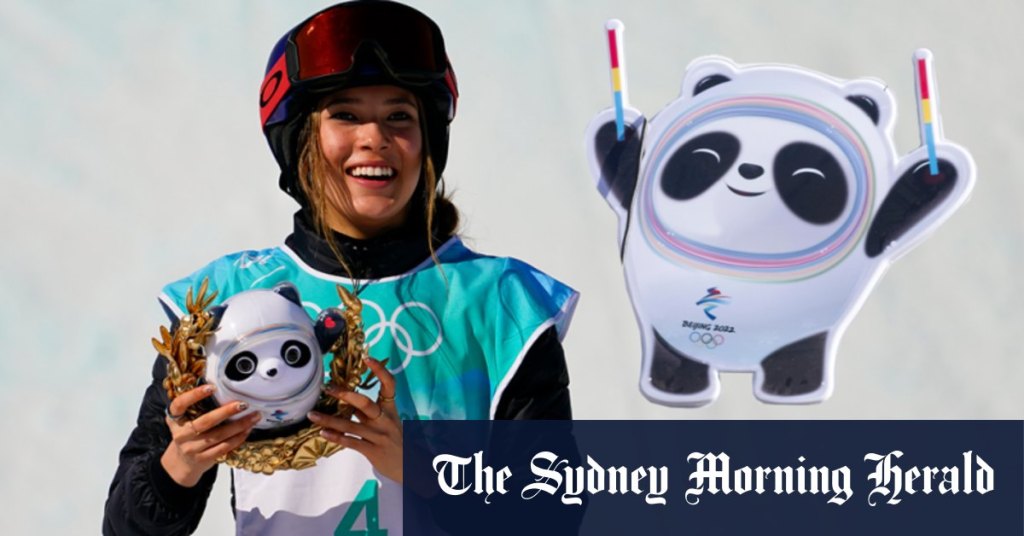 Eileen Gu, Bing Dwen Dwen help China sculp image of the world